Goal Mapping Workshop – Upplev den!
En 1-dags Goal Mapping workshop kommer hjälpa dig att lära dig hur du styr förändringarna i ditt liv i den riktning du själv önskar. Det är också ett inspirerande sätt att komma igång med att lära sig Goal Mapping tillsammans med likasinnade.
"Den positiva påverkan Goal Mapping har gjort på mitt liv är otrolig. Genom att föja de enkla stegen, har jag redan fått förmågan att uppnå många av mina mål."  Parmi Janagle, Finalist i 'Landlord of the Year'
Denna mångskiftande och dynamiska dag innefattar korta föreläsningar, praktiska övningar, interaktivt arbete och användandet av en komplett arbetsbok. Allt riktat mot att du skall komma igång med Goal Mapping – den viktigaste förmågan för framgång inom alla områden.
Du kan skapa en Goal Map för vad du själv än önskar. Det kanske gäller ett karriärbyte, en idrottsprestation eller ett byte av livsstil. Eller så kan det vara att finns kärleken, lyckan och tillfredsställelse/fullbordande.
Oavsett om din dröm är något fundamentalt/grundläggande eller helt enkelt något kul – kom till en workshop och testa Goal Mapping!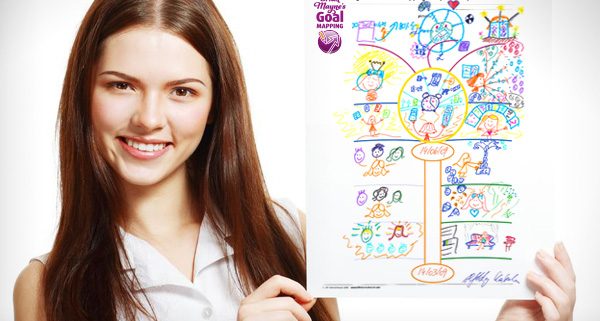 Huvuddragen i Goal Mapping Workshop:
✓ Bli medveten
Ändra synsätt för att se verkligheten klarare
✓   Lär dig se möjligheterna
Ändra dina tankar för att uppmärksamma möjligheterna
✓   Hitta balansen
Skapa framgång i alla delar av livet
✓    Hitta ditt livsmål/mening
Lär dig hålla kursen mot ditt högsta mål – din strategi för egen motivation
✓    Ta fullt ansvar
Lär dig ta ansvar – att svara an / välja din reaktion på händelser
✓    Behåll ett positivt fokus
Styr ditt undermedvetna för att behålla kontrollen över din verklighet
✓    De 7 grundläggande lagarna för framgång
Förstå naturens principer för skapande
✓    De sju stegen i Goal Mapping
Skapa din egen Goal Map och din plan och handlingsplan för din framtid