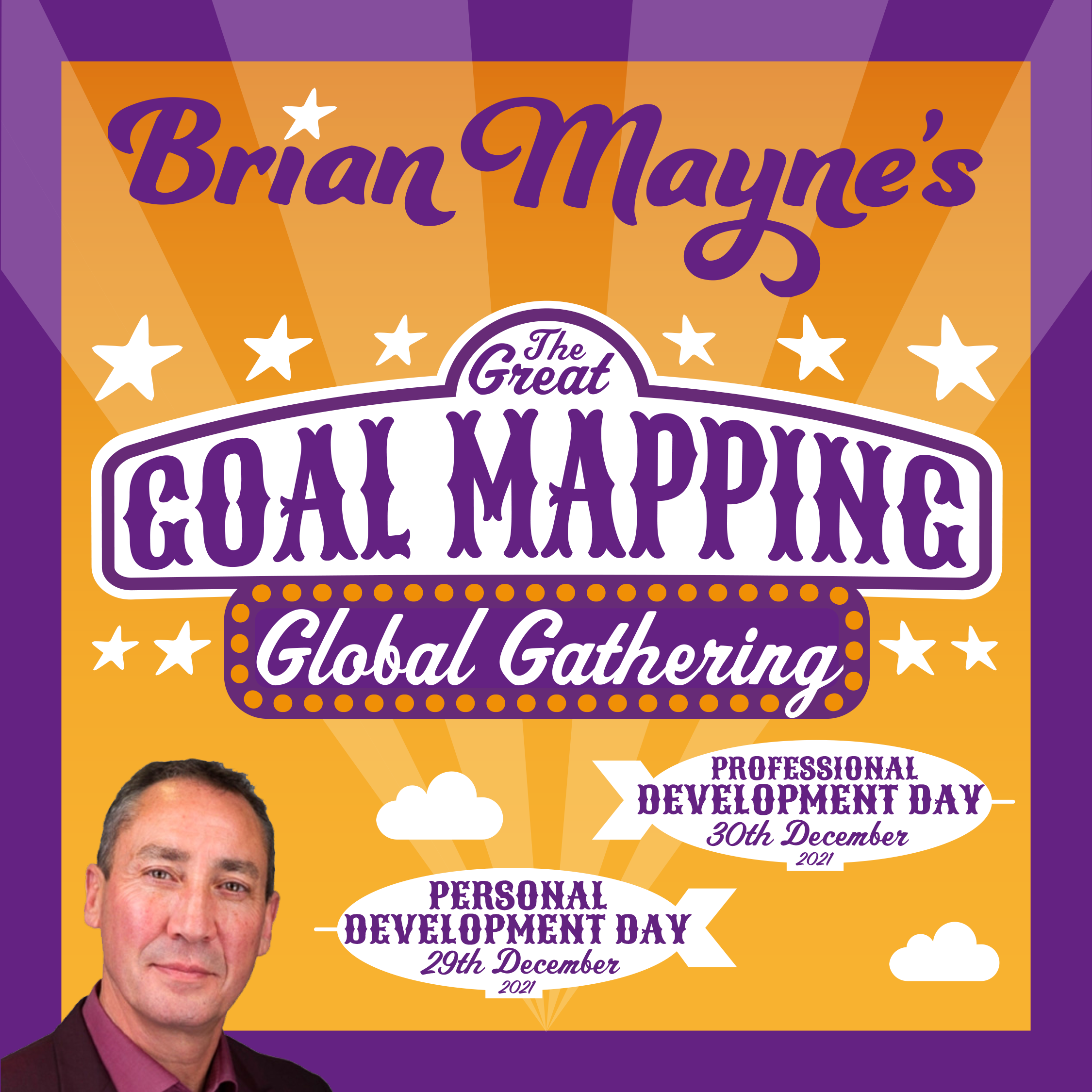 Reset, Refocus and Renew for 2022
A New Year is coming and bringing with it new opportunities for a New You and a new chapter in your life. Maybe in this last year you, like millions of other people around the world, have been thinking more deeply about your life and what you most value, the quality and life freedom you wish to live?
Many people are feeling it is time for a great Reset, Refocus and Renew ready for 2022
I would like to invite you to a special empowerment workshop presented by Brian Mayne the creator of the Goal Mapping system for success that has since 1995 now reached over 5 million people around the world helping young and old and from all walks of life to achieve their dreams.
If you truly desire to make 2022 your best year yet
The year where you follow through on your good ideas and New Year's resolutions
The year where you make those big positive changes in yourself and life
The year where you really start to live your greatest dream life
I wholeheartedly recommend you join this workshop and help you to make 2022 your best year yet, using the Goal Mapping system. It is so simple yet creates so much success and is helping so many people in so many ways:
Helping people in business large and small to achieve great results
It is helping in schools and families with more than a million children creating Goal Maps to gain greater grade and aim higher for a brighter future
It is helping sports men and women win medals and become champions, even world champions
Goal Mapping is helping people increase their health and wellbeing
It is helping people grow their financial freedom
Bring harmony to relationships
Make a difference to others
Goal Mapping has been helping people achieve their dreams since 1995. The many success stories and amazing messages from people sharing what they have achieved with Goal Mapping is truly inspiring.
People report achieving a greater level of happiness and peace of mind
They raise their self-esteem with Goal Maps and increase genuine confidence
Boosting their wellbeing, losing weight, getting fit and changing limiting habit patterns
So many people are reporting how Goal Mapping has helped them advance their career
Choosing a new path and finding and following a purpose, making a difference
Goal Mapping is helping people create harmony in their relationships
Or start a new relationship by attracting their perfect partner
I really recommend you attend either one, or both special Goal Mapping workshops which will be held online the 29th and 30th of December. Both Empowerment Workshops are dedicated to helping everyone create their Goal Map focused on making 2022 the year you bring out the best in yourself and achieve your greatest dreams.
29th December is a 'Personal Empowerment' Goal Mapping whole-day interactive workshop to achieve your dream life.
30th December is a 'Professional Empowerment' Goal Mapping whole-day interactive workshop with guest speakers and supporting coaches to help you excel within your work or change career and be effective in following a new purpose and path in your life.
You can choose to attend one or both workshops, both of which will be held in the Gold Lounge of Goal Mapping Online and if you are an existing Gold Members you can join for FREE! Simply click the link and register. Your place with be reserved and you will receive a joining email with all the details. https://bit.ly/GM22Gold
If you are 'not' already a Goal Mapping Gold member you can join now for just £9.99 and you will receive a Golden Ticket for both Empowerment Workshops, plus all the benefits that Gold membership brings from now until the 30th of January 2022:
You will be able to create multiple Goal Maps
Watch all the recordings of Golden Opportunity Workshops and Masterclasses
Use the Action Planner to add more detail to your Goal Maps
Access all levels of the Children's and Family Goal Mapping
Download all the resources of workbooks and videos
Create other maps such as Life Maps or Action Maps
Connect with coaches in the Gold Lounge
Setting goals correctly is a science. If you don't set your goals in the right way your chances of achieving them is so low; that's why so many people fail to follow through on their good ideas and New Year's resolutions.
Creating your goals in a Goal Map helps people achieve their best in so many ways. I really believe Goal Mapping can help you make your dreams come true.
Make sure you start 2022 in the most powerful way. Join Goal Mapping Gold, and even if you are not able to attend live, you can watch the recordings afterwards and also share with someone else you care about and want to help them change their life for good in 2022?
Christmas is coming and the greatest gift you can give is the life-skill of Goal Mapping; it is the gift that keeps on giving; helping people in every area of their life and throughout their entire life.
Click for details and go Gold and register for the program. I wish you happiness, peace, and plenty in 2022 may all your greatest dreams come true.